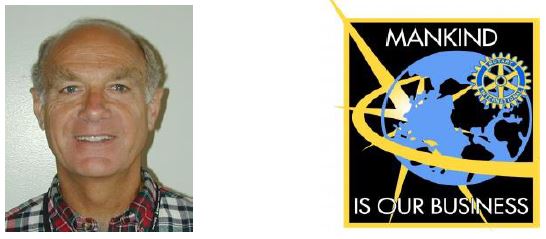 Theme: Mankind Is Our Business
Rotary's theme was "Mankind Is Our Business," and we certainly went about that business! Internationally, Polio Plus continued to be successful with fewer than 600 reported cases (down from 350,000 in the late 1980s). The plan is to celebrate the worldwide eradication of polio at the 100th anniversary Rotary Convention in Chicago in 2005. We also contributed $3,500 to World Community Service Projects in Central America and had three of our members travel to Honduras to view various programs that we have helped fund and to look for needs we might fund in the future. Global Quest was a major international push for membership growth and we led District 5100 with about 30 new members, growing to more than 200 strong.
Locally, the area Rotary Food Drive received 273,000 pounds of food and over $33,000 to support Marion-Polk Food Share. Our club donated over $30,000 to various causes, such as Reading Is Fundamental, the dictionary program, Mid-Valley Women's Crisis Center and The Children's Guild, and we bought a fence for the Richmond School's playground.
We sponsored an outstanding young woman Celeste Williams for an exchange to Sapporo, Japan. She is fluent in Japanese and has already entertained the club on one of her Japanese instruments. Three young leaders are headed to RYLA. We are making a difference in our community!
Our own Salem Rotary Foundation had an outstanding year, helped by a $10,000 bequest by former Rotarian Russ Bogart. Our foundation grew to more than $150,000 and contributed about $12,000 to Girl Scouts, Richmond Soccer, Easter Seals Children's Guild, Chemeketa Community College Foundation's Puente's Scholarship, and others.
A successful auction, held in May, netted almost $50,000 to fund next year's Good Works projects. Our district-leading Rotogram is emailed to most of our members now. Indeed, Mankind Is Our Business!