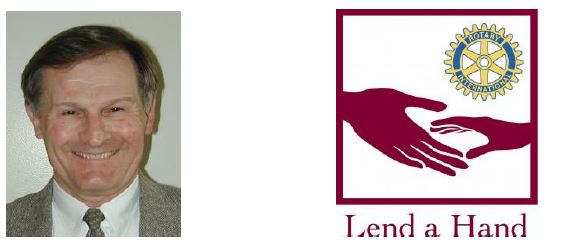 Theme: Lend a Hand
We commenced this Rotary year in July with the presentation of three specific grants. The first was $10,000 to the Marion County Health Department to fund health fairs and immunization clinics. A $15,000 gift was provided to Northwest Medical Teams to assure 11 free mobile dental clinics for local youth. Lastly, a $10,000 grant was presented to Salem-Keizer School District in support of the POWER after-school program. Salem Mayor Janet Taylor specifically recognized our efforts in the POWER program. In addition, the board was able to respond to other community needs with grants to: AC Gilbert Discovery village, Operation Hungry Child, Reading is Fundamental, Salem Boys Choir, Special Olympics, and our Ambassadorial Scholar. Thanks to raffle co- chairs Teresa Lulay and Tim Cowan for leading our successful fund raising effort. Carolyn Gorsuch and Mark Wulf were key in securing approval for this club's Rotary Centennial Project. By February 2005, Rotary Club of Salem members will have participated in the construction of a pavilion for picnicking in Salem's Riverfront Park.
International Service programs remained high profile and quite active. We sent two students on Rotary short-term exchanges as well as an outbound exchange student to Guatemala. It was also most enjoyable hosting this year's inbound Japanese exchange student, Noriko Nakagami. Throughout the year, she lived with the families of Lavinia Goto, Warren Bednarz, Mark Wulf and Warren Griffin, while completing a year of study at South Salem High School.
We continued our traditions of providing hundreds of Tree of Joy gifts and $6,649 to the Salvation Army kettle during a December meeting. Members also assisted the Salvation Army by "ringing the bell" at various Salem locations. We conducted another successful Service Day project at the Southeast Neighborhood Community Center as well as a Preserve Planet Earth work project at West Salem's Audubon Park. In addition, three local young people were provided the opportunity to attend RYLA Camp.
The vocational service award recipient was Ron Kelemen as we focused on his excellent work in mentoring youngsters. For the 14th consecutive year, we participated in the Rotary Workplace Food Drive. Our club was directly responsible for generating 168,002 pounds of food and $30,895 in gifts to Marion-Polk Food Share.