October 2 – Willamette Heritage Center
Program: Rotary Friendship Exchange Between Oregon and Sri Lanka 
We have an exciting opportunity to welcome fellow Rotarians from half way across the world, from the island nation of Sri Lanka. Come hear about this unique country where several of our fellow Rotarians participated in a Rotary Friendship Exchange last January. This program will include information about the Rotary Friendship exchange as well as a chance to hear from our Sri Lankan Rotarians about their beautiful country and amazing Rotary projects. Our own David Deckelman has helped coordinate this friendship exchange and he will be joined by Ned Preble from Wilsonville club and Yelena Girich from Portland Pearl club. We will hear from Sri Lankan Rotarians from Kandy, Columbo and Pandumwasnu.
Program Chair: Linda Bednarz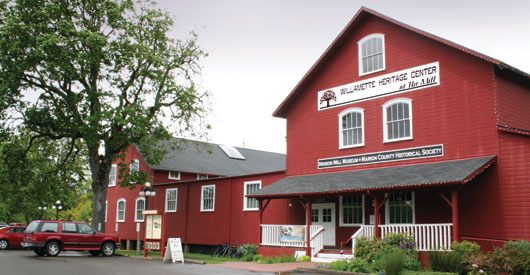 Message from President Tammy
Greetings Friends,
As we wrap up our Salem Rotary Foundation (SRF) month, let me say Thank you to each of you who contributed throughout the year and made special donations in Bell Ringers during September. John McCulley and the SRF Board will share very soon the final numbers.
In October we turn our focus to Polio Eradication and continue to learn about our Club history in this our 100thyear. We have begun to learn about our history through "Centennial Moments" prepared by Steve Martin and Ron Rubel. These moments will be presented regularly through our Centennial Year. This is just the beginning of many opportunities to acknowledge our history and celebrate together.
Did you know the expense to establish an Exhibit Booth at the Willamette Heritage Center was approved by the Board in this new budget cycle? Ron Rubel is working with Kylie Pine to create an exhibit we can be proud of and enjoy. This exhibit should be ready in the Spring. I know you will join me in thanking Ron and the members of the Public Image Committee led by Brenna Baucum for their commitment to this project.
Another place for us to celebrate will be our Good Works Event in February. I hope you have your calendar marked for February 8 at the Salem Convention Center. The evening will be our opportunity to complete our three-year fundraising commitment to the Amphitheater Project. The room will be full of community leaders who want to contribute to our Centennial Project. The evening will also be our time to celebrate our 100th birthday together. It will be an amazing evening. Please plan to attend.
I am confident we are going to continue to have a great year celebrating our past, serving in the present and planning for the future.
In humble Rotary Service,