August 7 – Rotary Pavilion, Salem Riverfront Park
Program: Science Experiments for Kids and Grandkids
Crystal Chatterton, a homeschooling mom of three and the author of Awesome Science Experiments for Kids. After trading an academic career in chemistry to stay home with her kids, Crystal launched the Science Kiddo website to share her love of science with her children. She writes about science, coding, engineering and math activities for kids.
Awesome Science Experiments for Kids includes 105 hands-on science experiments you can do with kids ages 5-10. Join us as we present 3 simple kitchen science experiments from the book that are exciting for adults and children alike, and you will get to participate in one of the experiments. Crystal will be assisted by her three children ages 10, 7, and 3. It would be a great meeting to bring your children or grandchildren – but let Chuck Swank know if you are bringing extras.
Program Chair: Renee Campbell
Amphitheater Site Visit – Be sure to carve out a few extra minutes after Wednesday's club meeting to walk over to the edge of the Amphitheater Site for a visit and to hear the latest updates.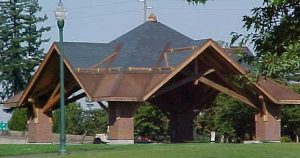 Message from President Tammy
Greetings Friends,
When you are involved in a conversation with friends, family and fellow Rotarians, the topic of your Rotary membership may be amongst the topics you discuss, right? I hope the answer is yes, because the power of Rotary is truly amazing. If you have spent time looking at the Rotary International website you saw the focus statement: "Rotary is dedicated to six areas of focus to build international relationships, improve lives, and create a better world to support our peace efforts and end polio forever." This is upheld through the promotion of peace; fighting disease; providing clean water, sanitation, and hygiene; saving mothers and children; supporting education; and growing local economies.
The Rotary Club of Salem is part of this greater mission and has been for the past 100 years. We have been active in international grant projects, funding the effort to end polio and so much more. We also focus our time, talent and treasure in our home community to make Salem a great place to thrive for every member of the community we serve. Our "Hands On Committee" coordinates club activities for us to participate in. At the same time, many of our fellow members represent Non Profit organizations who host activities throughout the year for us to offer our time, talent and treasure to support.
I am so proud, every day, to be a Rotarian and to know with 100% certainty that my time, talent and treasure is fulfilling a bigger mission than I could ever fulfill on my own.
Thank you, Rotary Family, for choosing to be part of this wonderfully diverse and amazing Club. Thank you for being generous with your time, talent and treasure. The Rotary Club of Salem is better because you are here.
In humble Rotary Service,