February 26 –  Willamette Heritage Center  
Program: Oregon's Hazelnut Industry  
Drive almost any road between Portland and Roseburg and you will see new plantings of hazelnut trees – thousands and thousands of acres of new orchards. 
By 2025 industry observers expect that hazelnut production will double thus creating a marketing challenge for growers and processors. Larry George, CEO of North America's largest hazelnut processor, George Packing Company and Northwest Hazelnut Company, will provide an insightful update on this iconic Oregon agricultural industry.
Program Chair: John McCulley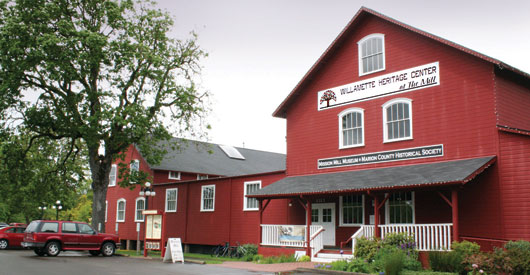 Message from President Tammy
Greetings Rotary Friends,
We have a serious challenge in our Club and your help is needed. Our Youth Exchange Program is in jeopardy of being discontinued until such time as host families can be identified. How can you help? Contact Christine Whiteside with your list of potential host families who are willing to learn more about what is involved in serving as host families. We need to develop a solid list of persons who are willing to open their homes to Youth Exchange Students for long term or short-term exchanges. Host families do not have to be Rotary members. The Youth Exchange Program Committee has indicated they have exhausted their networks and have come up empty handed.
Our Club has been positively impacting our Community for 100 years. The Youth Exchange Program has been a successful program and has connected our club to students from all over the globe. Your assistance is needed to keep this program viable.
Did you know?
Rotary Youth Exchange builds peace one young person at a time. Students learn a new language, discover another culture, and truly become global citizens. Exchanges for students ages 15-19 are sponsored by Rotary clubs in more than 100 countries.
What are the benefits?
Exchange students unlock their true potential to:
Develop lifelong leadership skills
Learn a new language and culture
Build lasting friendships with young people from around the world
Become a global citizen
How long do exchanges last?
Long-term exchanges last a full academic year, and students attend local schools and live with multiple host families.
Short-term exchanges last from several days to three months and are often structured as camps, tours, or homestays that take place when school is not in session.
What are the costs?
Host families provide room and board. Each program varies, but students are usually responsible for:
Round-trip airfare
Travel insurance
Travel documents (such as passports and visas)
Spending money and any additional travel or tours
Do you want to open your home? Or do you know persons who would like to serve as host families? If so, please contact Christine Whiteside and let her know. She is excited to hear from Club members who are willing to ensure the future of this valuable program. 
Thank you for saying Yes!
Yours in Rotary Service,