March 11 –  Willamette Heritage Center  
Program: West Salem High School Wind Ensemble 
Come enjoy West Salem High School's (WSHS) top band, known as the Wind Ensemble, directed by Todd Zimbelman. The Wind Ensemble plays at a level that exceeds many University bands and features 20th century band music at a professional level.
The WSHS Band has received 9 State Championship awards in the last 10 years, several Symphony Orchestra State Championships and numerous Northwest Marching Band Championships. The West Salem HS music program is taught by nationally recognized music teachers of excellence including Todd Zimbelman, Band Director, Kimberly McConnell, Choir Director, and George Thompson, Orchestra Director. You don't want to miss this program!
Program Chair: Karl Raschkes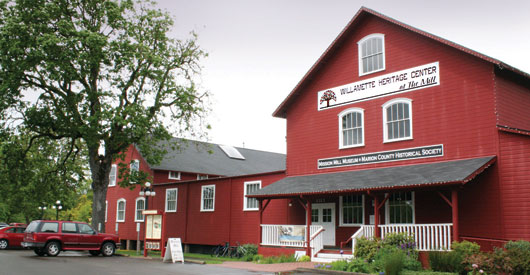 Message from President Tammy
Greetings Rotary Friends,
This week's President's Column is dedicated to the exciting news from the Amphitheater Co-Chairs, Barry Nelson and Ken Van Osdol. Please let these gentlemen know how much you appreciate all of their efforts to bring the Centennial Project to fruition. I am sharing this message here in case you did not see the special Amphitheater announcement:
MJ Murdock Charitable Trust Gives Huge Boost to Amphitheater Project!
Late Thursday afternoon we learned that the MJ Murdock Charitable Trust has awarded a $400,000 grant to the Gerry Frank | Salem Rotary Amphitheater. This brings the total of donor commitments to $3.55 million toward our $4 million goal. The Murdock grant is one of the largest contributions to the project, exceeded only by $1 million from the State of Oregon and over $900,000 in contributions from members of the Rotary Club of Salem.
In announcing the award, a representative of the Murdock Trust noted that the trustees spoke fondly of the long and close relationship between Jack Murdock and Gerry Frank. On hearing the news, Gerry Frank commented, "You never know how the friendships you make might make an impact later in life."
Gerry's lifetime of service to others has manifested itself regularly in the conversations we've had with those supporting the project, confirming he's touched the lives of generations.
The MJ Murdock Charitable Trust grew out of the philanthropy of Tektronix co-founder Melvin J. "Jack" Murdock, creating an incredible and lasting legacy. For information about the Murdock Charitable Trust see: 
https://murdocktrust.org/
Special appreciation goes to Joy Dickinson who has been our grant writer for this and other grants we are seeking.
Thank you, again, for your leadership and commitment to what will be an iconic cultural landmark! If you haven't yet made a contribution to the project, you may do so at 
www.RotaryAmphitheater.com/donate
.
Barry Nelson and Ken Van Osdol
Centennial Project Co-Chairs
This is an exciting time for our Club. Our Good Works Event in February was significant and record breaking. Let's keep the energy going and come alongside the Amphitheater Task Force as they work diligently to achieve the fundraising goal of $4M.
Yours in Rotary Service,