November 14 –  Willamette Heritage Center  
Program – NuScale Power

At a time when the threatening effects of global warming are becoming a harsh reality, a Corvallis company is doing something about it. NuScale Power, LLC is creating new technology to produce nuclear power that is safe and carbon-free in a scalable form unlike the giga-watt nuclear facilities of the past. Zack Houghton, manager of mechanical design engineering, will explain what it is and how it works.
Program Chair: Ken Van Osdol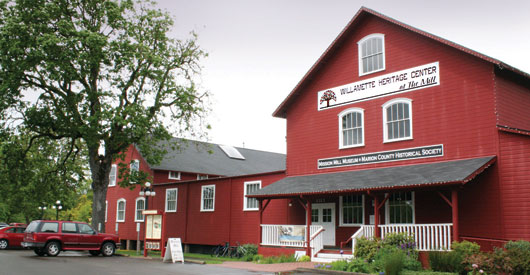 Message from President Rus

I hope you were able to attend last Wednesday's lunch and program focused on our international impact funded by The Rotary Foundation [TRF]. Dawn Bostwick's historical perspective, David Deckelmann's overview of Shelterbox, Howard Baumann's recap of our international efforts, and Ron Kelemen's personal views on giving gave us a good perspective of this important part of our responsibilities as global Rotarians.
The Rotary Foundation continues to be known as one of the best run foundations in the world. The management of funds and low administrative expenses are nothing but world class. We all can be proud of Rotary International and confident that our contributions will be secure and well managed for the maximum possible impact. And one of the great parts is our opportunity to use part of this foundation in our own projects. Our club has applied and received grants supporting our international projects and local literacy efforts. Our club donations for the Dictionary Project were matched by a grant of $2,000.
To reap these benefits, we must play. By that I mean participate by contributing to The Rotary Foundation. Rotaryhas a term, "Every Rotarian Every Year." This is the expectation that all of us make some form of contribution to this great fund. Last year for the first time, all 180 or so of us made that commitment….thanks Claudia Vorse for your leadership. We contributed $25,576…awesome! So where are we now? As of November 7, 19 of us have made TRF contributions since July 1 totaling $4,475. We certainly have a way to go, but hey, the month is young.
Dawn and her committee will be sharing more information as we proceed through November. She is also committed to making the giving process as easy for you as possible.
But wait, there's more! If you really want to leverage your contribution, the club is committed to providing a $100 match to members' (minimum) donation of $100 again this year. All that on the road to your next Paul Harris Fellowship! Please give it your serious consideration.
See you tomorrow,