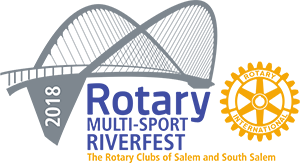 Mark your calendar for September 23, 2018!
What started as a dream to offer another open-water triathlon in Oregon has become a multi-sport festival in just one year. The Rotary Clubs of Salem and South Salem have again teamed up to foster a community experience centered in Riverfront Park, with the aim of raising funds to support charitable initiatives both locally and globally.
The event will include varied races in several distances, food, health and wellness booths, music, and plenty of volunteer opportunities. "We are thrilled for the opportunity to bring this event to our community and showcase our beautiful parks and Salem's wonderful downtown," says John Shirley, Chair of the Rotary Multi-sport Planning Committee. Not just for experienced athletes, the Multi-Sport RiverFest is a community event with an emphasis on promoting active lifestyle habits and an appreciation of Salem's beautiful and easily accessible parks.
In addition to promoting active lifestyles, the event will raise funds for local non-profits and international humanitarian projects.  Since 2000, the Rotary Clubs of Salem and South Salem have awarded over 200 grants to more than 50 nonprofit organizations in the Salem area. Additionally, international projects include water wells and sanitation facilities in countries like Haiti and Indonesia, and the nearly complete elimination of the Polio virus.
The 2017 Rotary Triathlon event brought participants from five States and Canada, as well as hundreds of local runners and cyclists. Encouraged by last year's success, the planning committee has added a Half-Marathon and the "Over the Bridge and Around the World" Kid's Run, presented by Salem Health. "Adding a half marathon and events for kids gives even more options for both adults and families," says Robert Chandler, Co-Chair of the event. The planning committee has also made plans for a back-up swim route in case of rain and runoff into the slough, ensuring that triathletes will be able to complete all three legs of the race this year.
Regardless of fitness level or ability, there's a place for everyone in the RiverFest. The 5K is open to runners and walkers of all ages, kids can dash through the Kids Run, and if tackling a triathlon on your own seems like an unattainable feat, consider signing up as a team. All told, there are now eight race options to get outside and join in the fun:
Run
Kids Run
5k Walk/Run
10k
Half Marathon
---
Duathlon
Olympic
Sprint
1.6k Run
1.6k Run
40k Bike
20k Bike
5k Run
2.5k Run
Triathlon
Olympic
Sprint
1500m Swim
750m Swim
40k Bike
20k Bike
10k Run
5k Run
---
Signing up for a race event isn't the only way to participate in the Multi-Sport Riverfest. Over 200 volunteers of all ages helped last year's event run smoothly, and the race coordinators are hoping to sign up even more this year. Spectators and park patrons are welcome and encouraged to visit the food booths, enjoy the music, and participate in yoga in the park. To learn more, visit https://rotaryriverfestsalem.org.