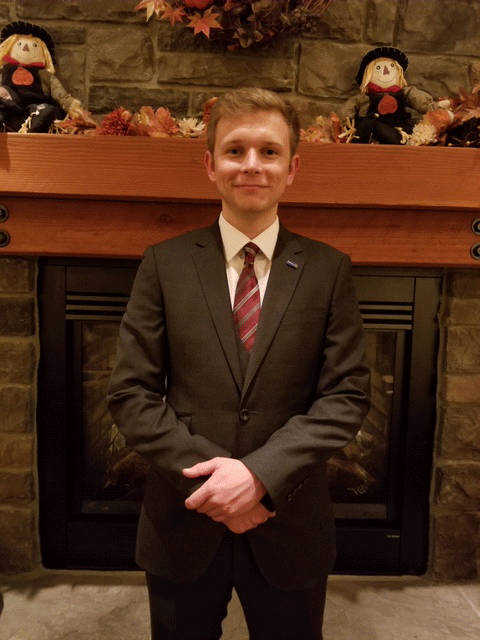 President Rus and fellow Rotarians, It's a delight to introduce all of you to Reed Carlson.
Reed, recently, completed 5 years at OSU (go Beavers) and graduated with a dual major in Business and Sustainability. His interest in garbage and recycling began as a young boy dumpster diving for treasures in his home town of Gresham. Okay, just kidding. His interest really began while looking for a job in the environmental field. At OSU, he mainly focused on energy conservation and renewables. So going into his position with the Mid Valley Garbage and recycling association, he was a complete novice, having no previous knowledge about the intricacies of materials management.
Reed is very excited about where this path will take him and he has started thinking about going to grad school for environmental science.
Music has been a huge part of Reed's life. He has played the trumpet since the 5th grade and that lead him to play in the OSU marching band (go Beavs). He considers himself a super fan and is delighted that band alums are invited to dust off their instruments and play with the band a few practice hours before the first couple games of the season.
Reed has a sister, Nichole, also at OSU but in the ROTC program. Reed watched her graduate from Officer Candidate School this summer, after a rigorous 6 week training in the classroom and in the field – which is one of the larger hurtles a Marine officer candidate must complete before commissioning in the Marine Corps as an officer. She was in the ROTC color guard presenting colors for both his final field show in marching band and for his graduation.
This self professed quiet guy has had a great time exploring the downtown Salem area, enjoying the unique restaurants and bars. He thinks Salem takes the better aspects of both a larger city and a smaller town.
When he's not presenting the latest information on recycling and holding his own when confronted by a demanding judge, Reed likes to go into the book bin to buy a book he doesn't need, get coffee that he might well need at the Governor's Cup, and collect vinyl records from Ranch Records. Now that he has more time, he plans to go back to the hobbies he enjoyed with his family including RV camping, hiking, and rafting.
Reed is a well rounded guy and will be a great assist to the Rotary Club of Salem.