October 23 –  Willamette Heritage Center  
Program: The Oregon State Hospital's Museum of Mental Health  
Kathryn Dysart, Board President of the OSH's Museum of Mental Health, will share her insight on this important local facility. The 130-year-old hospital is the oldest State of Oregon government building still standing, and also was the filming location for the Oscar-winning movie: One Flew Over The Cuckoo's Nest. The museum explores the history of mental illness and its treatments through the years. It has also become a valuable source for mental health education for our public schools and colleges by providing appropriate curriculum and encouraging school tours.
Program Chair:  Howard Baumann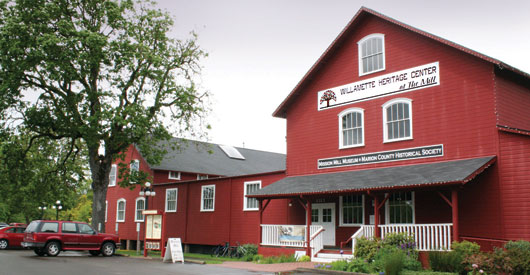 Message from President Tammy
We have been focusing on Polio Awareness this month. If you saw the October Rotarian magazine, you probably noted October 24 is World Polio Day. I am hopeful our Club members will fill up the tip jar on the piano this week in honor of World Polio Day. Remember, our donations to Polio are matched two to one. Special thanks to Dawn Bostwick for bringing the tip jar, counting our donations and sharing weekly polio-related updates with us. If we keep up the effort to eradicate polio, we will see this mission accomplished and celebrate together!
Five people touched by Polio appeared in the November Rotarian magazine. Their stories are powerful. Another article that caught my attention was focused on membership entitled, How to Make Your Club Irresistible. If you've been able to join the fun these past few weeks, you've participated in welcoming new members to our club. I am hopeful this is because our Club is irresistible. I hope you agree. It is one thing to induct new members, however, the real achievement in every volunteer-based organization is membership retention.
Membership retention is up to us. Do we extend our hand to welcome every person to our gatherings? Do we look for our Red Badge Members to invite them to participate in committees or help them meet other members? Our Community Needs Committee has identified some opportunities for our club members to ask for service hours. If you are a member with a project where we could potentially lend a hand, reach out to Steve Horning. He will connect you to the committee leaders who coordinate our community outreach. By welcoming our new members, by creating a place to belong and by reaching out to our community, we are an irresistible member-based organization.
You are amazing and you make our club irresistible! See you soon my friends!
In humble Rotary Service,