September 18 – Willamette Heritage Center
Program: Duvall Scholarship Recipient
One of the highlights of the Rotary program year is the chance to hear about the projects funded with grants provided by the Salem Rotary Foundation. This week club members will meet the Duvall Scholarship winner Alejandro Espiritu Sanchez as he shares the story of his educational journey. Also featured will be grant awardees The Northwest Hub, Capital Swimming and The Music Lessons Project. The program represents a great opportunity to see first-hand how your gifts to the Salem Rotary Foundation enrich our community.

Program Chair: John McCulley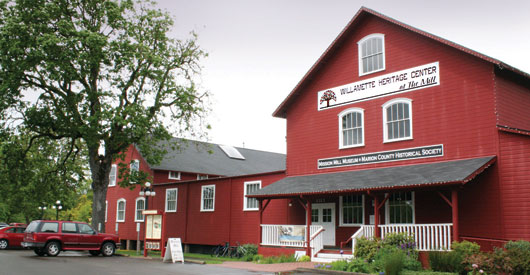 Message from President Tammy
Greetings Friends,
It is an honor for me to learn of and share this notation made by Congressman Schrader in the Congressional Record to acknowledge our Centennial Year.
HONORING THE SALEM OREGON ROTARY ON THEIR 100TH ANNIVERSARY Congressional Record Vol. 165, No. 146HON. KURT SCHRADERof Oregonin the house of representativesThursday, September 12, 2019

Mr. SCHRADER. Madam Speaker, I rise today to honor and congratulate the Rotary Club of Salem, Oregon as they celebrate their 100th year of service to the Salem community. With nearly 200 members, the Rotary Club of Salem has established itself as one of the most distinguished community service organizations in my district. The Rotary Club of Salem was organized on September 16, 1919. Over the last 100 years, the Rotary has strengthened their community through their mission of providing service to others, promoting integrity, and advancing world understanding, goodwill, and peace through fellowship of business, professional, and community leaders.
The Rotary Club of Salem gives back to the community by sponsoring inbound and outbound exchange students, distributing dictionaries to 4th graders in the Salem/Keizer school district, giving grants to local non-profits and by participating in international projects annually. To celebrate their 100 years of service, the Rotary will be building the Gerry Frank Amphitheater, a multipurpose amphitheater at Salem's Riverfront Park to inspire culture and encourage community togetherness.
I would like to extend my congratulations to the Rotary Club of Salem as they celebrate their 100th anniversary and thank them for their service to the community of Salem.
In humble Rotary Service,