September 19 – Salem Conference Center 
Program – District Governor Larry Hatch
We are honored to have District Governor Larry Hatch join us at our meeting this week. He'll be sharing with us the five things that make our clubs, our district and Rotary stronger. Find out more about DG Hatch 
here
.
Program Chair: Renee Campbell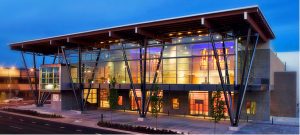 Message from President Rus
As I have embarked on this journey of your president for our 99th year, I have looked to our past presidents for sage advice in leadership. One of the themes I heard was that summer is easy, wait until September. Things will heat up. Well they really have! Here we are mid-way through our Salem Rotary Foundation month and the bell is really ringing!  Just think, a $20 bell ringer this month has been providing SRF with about $80 after our generous match and super match programs. This week the matching increases, adding more impact to your contribution. Please take some time to consider a bell ringer recognizing something important to you, or our club, and help make a difference. And don't forget to put September 28 on your calendar for our "A Million Reasons to Give" celebration at Coria Estate.
Along with SRF, our two sponsored high schools, Salem North & South are back in session and we can look forward to hearing from our Students of the Month throughout the school year.
A new member joined our club last week, another is scheduled tomorrow, and I hope you are giving thought to friends, colleagues, or acquaintances who could join us in our great club.
Add to that, our second annual Multi-Sport Riverfest this coming Sunday. The forecast is looking good and John Shirley and his team have done a fantastic job of planning this special event. That leaves us, as fellow Rotarians, to sign up to volunteer and help make a difference. You will find me in the bike corral.
This week's program features District Governor Larry Hatch who will chat with us about the workings of Rotary International, District 5100, and our club's impact toward Being the Inspiration. Larry brings a very low key, informal style to his leadership, an approach I think you will enjoy and appreciate.
So, the weather may be turning cooler, but our Rotary year is just heating up. Looking forward to seeing you all tomorrow.